Hey there! Its freeeezing cold and I'm ready with a capital 'R' for warm weather, aren't you?! Maybe not but I sure am, haha! Still, it's never too cold for our team at United Family Lawn Care!!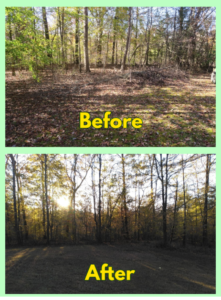 We're committed to providing quality service at affordable prices no matter what time of year it is and long as the weather is safe to do so we're there for yah! I am even getting over a bit of a cold but no worries because fresh air is good for this kinda stuff.
Today me and Jeff are taking you with us on a HUGE yard cleanup job we just finished not too long ago for a guy who lives in the small town of Faith, NC which is just outside of Rockwell, NC. He's getting ready to sell his house so we're getting his yard lookin' on point.
This job included:
mowing
large limb removal
debris removal
junk removal
and more!
As you can see in the picture, there is a night and day difference between the start and the end product of this job so of course we just HAD TO share it with you. Not to brag of course but to share our life and work with you.
What Are Tree Limbs & Debris?
It goes without saying that tree limbs come from trees. But when my hubby first mentioned it to me, this was not what I had in mind.
He said, 'Hunny, I need your help to pick up a couple of tree limbs at this one place.'
So I said, 'Sure, no problem.' Thinking it was just a bunch of twigs and some furniture. That's the way he described it.
But that's obviously NOT how it went, haha! We pulled up and there WAS a pile of twigs, leaves, burnt stuff and furniture. What I didn't expect was the big branches that were taller than me and I'm over 6 ft by the way.
Good thing I keep myself strong because they were no joke. Some of them were so big it took both of us to lift them.

So I thought it would be good to explain exactly what debris removal is in relationship to trees. Because it is much different than tree removal as well which we do not do under normal circumstances.
What Is Considered Debris
Basically, if it is fallen on the ground and shouldn't be there, then it is considered debris. This includes:
twigs
branches
leaves
logs
garbage
ashes
old furniture, appliances, etc.
Tree debris is when branches fall off. This includes large branches as well like the one that I'm holding in this picture.
The part of a tree that does not count as debris is the part that is still rooted in the ground. Even if it is a stump, that is something totally different and needs different equipment to remove it.
Ho